Tourist Authority – South Moravia
At the Tourist Authority – South Moravia we take care of informing people in the region, so that they know about all the opportunities that are offered to them in the tourism business. We prepare information materials. We present South Moravia inwards and outwards.
everything about Tourist Authority South Moravia
Portal for tourists south-moravia.com
On a gold platter, tied in red and blue ribbon. We serve you the beauty and uniqueness of South Moravia on our tourist portal. Plan a trip or vacation with us, taste the sinful goodies of the wine-growing regions, discover the warmth of local traditions. Just choose…
I wanna go to the webpage South Moravia
We show South Moravia to the world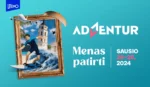 Adventur
26. 01. - 28. 01. 2024
Vilnius, Litva
More information
26.-28. ledna 2024 proběhne cestovní veletrh Adventur v Litvě, který je určen jak odborné veřejnosti, tak především individuálním návštěvníkům.  Průměrná návštěvnost veletrhu je kolem 23 000 osob. Nejčastěji do České republiky cestují vlastním automobilem nebo autobusem. Na veletrhu proběhne B2B jednání s litevskými CK. Veletrhu se budeme účastnit díky spolupráci s agenturou Czechtourism a se Statutárním městem Brnem.

F.RE.E Mnichov
14. 02. - 18. 02. 2024
Mnichov, Německo
More information
Veletrh pro volný čas a cestování
Veletrh f.re.e je jednou z nejoblíbenějších spotřebitelských výstav v jižním Německu. Představuje vše, co souvisí s cestováním a rekreací v celé své rozmanitosti a zve návštěvníky k bezprostřední zkušenosti v četných dobrodružných světech.
Prezentují se zde turistické organizace, hotely a penziony, klubová zařízení, prázdninové domy, cestovní kanceláře, tipy na cestování po vodě, dovolené na koni, golfovou turistiku, wellness pobyty, doprava. Tématy jsou dopravci, mobilita, cvičení a fitness, zdravá výživa, krása a péče o tělo, well-being a alternativní medicína, lékařství, wellness, lodě a příslušenství, vodní turistika, chartery, kanoistika, kajaky, šlapadla, surfování, pádlování vestoje, potápění, veslování, rybaření, obytné vozy, karavany, příslušenství vozidel, kempování vybavení, kempy, horolezectví, trekking, outdoor, sportovní zařízení, jízdní kola, vybavení a doplňky, oblečení a obuv.

Dovolená
01. 03. - 02. 03. 2024
Ostrava, Česká republika
More information
Veletrh cestovního ruchu v Ostravě inspiruje, kam na dovolenou, kam poslat děti na prázdniny nebo kde si udělat pěkný víkend. Dovolená v Česku, turistika, regionální potraviny, kulturní památky, příhraniční cestování a hlavně bohatý doprovodný program a spousta soutěží o hodnotné ceny nabídl letošní ročník veletrhu. Tématy byly: cestování, poznání, dovolená, turistika, dobrodružství. Souběžně proběhl i Knižní festival Ostrava. Tento tuzemský veletrh umožňuje představit zajímavé cíle jižní Moravy zejména českým potenciálním návštěvníkům.

HOLIDAY WORLD & REGION WORLD
15. 03. - 17. 03. 2024
Praha, Česká republika
More information
Mezinárodní veletrh cestovního ruchu HOLIDAY WORLD je nejvýznamnější akci svého druhu nejen v České republice, ale i v regionu střední Evropy. Na turistické zážitky lákají regiony České republiky a aktuální nabídky zájezdů do celého světa nabízí desítky cestovních kanceláří a agentur.