Tourist Authority – South Moravia
At the Tourist Authority – South Moravia we take care of informing people in the region, so that they know about all the opportunities that are offered to them in the tourism business. We prepare information materials. We present South Moravia inwards and outwards.
everything about Tourist Authority South Moravia
Portal for tourists south-moravia.com
On a gold platter, tied in red and blue ribbon. We serve you the beauty and uniqueness of South Moravia on our tourist portal. Plan a trip or vacation with us, taste the sinful goodies of the wine-growing regions, discover the warmth of local traditions. Just choose…
I wanna go to the webpage South Moravia
We show South Moravia to the world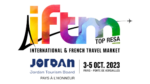 TOP RESA PAŘÍŽ
03. 10. - 05. 10. 2023
Francie, Paříž
More information
Veletrh cestovního ruchu a cestování, který pokrývá všechny typy cestování: Business , Leisure , Groups a MICE. Veletrhu se budeme účastnit ve spolupráci s agenturou CzechTourism a městem Brnem.
B2B Workshop Kodaň 2023
10. 10. - 10. 10. 2023
Dánsko, Kodaň
More information
B2B Workshop v Kodani, který ZZ Skandinávie a Finsko organizuje po čtyřleté pauze opět prezenční formou.

Cílem B2B workshopu je propojení českých subjektů jako např. incomingových agentur, hotelů či destinačních společností s dánskými a švédskými CK s potencionálem navázání a prohloubení obchodních vztahů, vytvoření nového produktu a jeho prodeje.

Prezentace české gastronomie proběhne prostřednictvím řízené degustace vín, kuchařské lekce vaření a následné servírované večeře.
Culinary Event "Taste of Czechia" se bude konat 10. října 2023 v prostorách Lunas Kokken v centru Kodaně od 16:00 – 20:00 hod.

Mezinárodní strojírenský veletrh
10. 10. - 13. 10. 2023
ČR, Brno
More information
Mezinárodní strojírenský veletrh je nejvýznamnější průmyslový veletrh ve střední Evropě. Návštěvnost je vysoce odborná, téměř osmdesát procent návštěvníků ovlivňuje rozhodování o investicích, třetina patří k vrcholovému managementu.
Zastoupeny jsou všechny klíčové oblasti strojírenského a elektrotechnického průmyslu. Nosným oborem je tradičně obrábění a tváření.

Hlavním tématem MSV je Průmysl 4.0 a digitální továrna, tedy digitalizace výroby, jeden z hlavních směrů inovačního procesu. Mezi další zvýrazněná témata patří cirkulární ekonomika – nakládání s materiálními zdroji. Jde o trend, který je jednou z prioritních oblastí udržitelného rozvoje, a adaptace průmyslu a obchodu se bude ubírat právě tímto směrem.
Součástí veletrhu je špičkový doprovodný program složený z odborných konferencí, seminářů a workshopů na aktuální technická, obchodní a ekonomická témata.
Networkingový workshop s britskými MICE nákupčími
13. 11. - 14. 11. 2023
Spojené království, De Vere Tortworth Court
More information
Czech Convention Bureau ve spolupráci se zahraničním zastoupením agentury CzechTourism v Londýně pořádá networkingový workshop s britskými MICE nákupčími.